I woke up an hour before my alarm, irritated with my internal clock. As if leaving at 4am weren't early enough, my body decided to wake at 3am just to be sure I don't sleep through my alarm. We sleepwalk the kids down two flights of stairs and tuck them back in in the Mars(den) Rover. 🙂
I slept the first chunk of the drive, but when I wake and look out the window I know we're in Louisiana by two things: street signs and swampland. No other place have I seen names like Atchafalaya or Thibodaux or Vacherie or St. John Parish. I'm also surprised to see trees growing out of the water in the swamp. I guess I thought they would be on marshy ground, not sticking up right out of the water.
We pull off the freeway into the RV park I had meticulously researched before booking. It's becoming clear a real challenge of this RV life is getting around. I now understand why people tow small cars around, although I don't think towing our SUV behind this thing would be an option. The French Quarter RV Village was a glorified parking lot surrounded by an eight foot concrete wall with razor wire on top. The area looked sketchy. However, it was spotlessly clean and the people were friendly. The big draw was that it is walking distance to the French Quarter.
I have a terrible sense of direction. I can barely read a map. Even with the woman at the front desk highlighting a route AND my phone set to live walking directions on Google Maps, I still manage to get all turned around. Mike isn't much better, but he has been blessed with a greater dose of common sense, "We can't cross here because of the giant construction site sink hole in the street. If we go down an extra block we can backtrack." This is makes us a pretty good team, until he suggests a shortcut down Bourbon Street.
I'm not totally naïve. I understand what happens on Bourbon Street, in concept. In reality, we accidentally walk down the section of adults-only sex fetish stores. I try to avert the kids eyes, "Hey! Look at that over there! The… um… the people playing drums waaayyyyy overrrrr there!"
Lesson from the road: You can't control your surroundings; roll with it.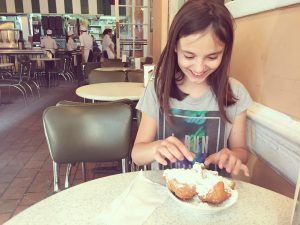 We are on a mission to get beignets from Café Du Monde. When we began planning the Marsden Expedition, Emma had one request: she wanted to try the beignets that she saw on Princess and the Frog. It became clear that Café Du Monde was THE place to go. We grabbed a table inside by the doors, wiping powdered sugar off the seats before sitting: a good sign. The beignets are thick and fluffy, more dense than I had imagined. Sweet, but not overly so like the donuts we get at home. I, of course, have to pick up another mug to mark the occasion.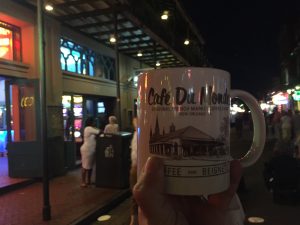 We haven't even made it up the street before I realize I will crave these beignets forever.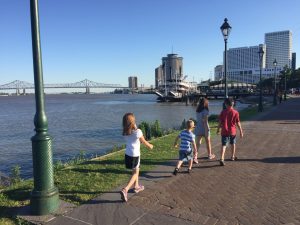 After walking to the waterfront and looking at the steamboat on the Mississippi River, we make our way up St. Louis Street to Pierre Maspero's for dinner. We chose this place because as we had passed by on our way to find Café Du Monde, a server handed us a menu and told us they have $7 kids' meals. Done. Fortunately, it turned out they also have good eats. My friend Karina met us there.
Karina and I have been friends for years now. We met on Twitter—it is possibly one of my spiritual gifts to meet awesome people on Twitter—and we hung out at IF:Gathering in ATX a couple years ago. She's also a writer, and also knows me well enough to have brought me a mug as a gift. This puts me at 5 days of travel and 6 mugs.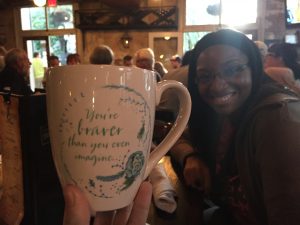 I imagine I am becoming the crazy cat lady except with coffee mugs. Someday my kids will complain about my mug-hoarding and I will swear to them I have memories attached to one. Because I do. It is a delight to choose a mug in the morning. Both for the physical practicality of holding my hot beverage of choice (I'm in a tea phase right now) and the emotional satisfaction of also sipping the memory stored in the mug.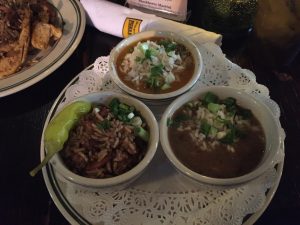 After a delicious dinner (I had the Crescent City Sampler: gumbo, jambalaya, and crawfish etouffee. BOMB.), we walk the noisy streets to a candy shop. While we were in Texas my father-in-law had organized a treasure hunt for the kids with gold Sacagawea dollar coins as the booty. They've been burning holes in their pockets since. Any guesses how long it takes four kids to spend five dollars each at a candy store? F O R E V E R. Well, depending on the kid and their understanding of money. Walter saw candy Legos and was sold. He was even excited about getting change back: "The lady gave me more money!" The older kids are not so easily swayed. They agonize over their choices to the point Mike starts counting down from ten. Ten seconds to decide or you're not buying anything. It's a mad scramble, but they've memorized their options at this point and the pressure helps them pull the trigger.
I think they get that from me. I am never more decisive than at the last possible second.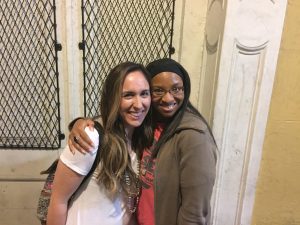 I hug Karina goodbye (and her sweet friend who had joined us) and we make our way back through the dark, sketchy side streets to the RV.
Day 6 Vlog (Mike says this is his favorite so far):