I can only assume from what I see of the interstate, that most of Mississippi and Alabama is dense, lush forest. The stretch of drive to Nashville is largely unvarying; the first leg of the trip where life on the road starts to drag. We were still worn out from the previous evening spent wandering the French Quarter in New Orleans.
I call an RV campground that Mike found on Google to book our stay for the night in Nashville. One nice thing about this whole mobile sleeping arrangement is the flexibility to make decisions last minute. On the phone with the sweet southerner at The Grand Ole RV, I can't help but smile at her warmth. I ask if it would be possible to pay for a late check out the next day. She exclaims, "Oh, darlin' y'all don't have to do that! Y'all might need to move out of the space if someone is going to be getting in, but y'all are more than welcome to park by the store. Y'all stay as long as you need." Okay, maybe I'm remembering it with too many y'alls, but you get the picture. It was a little disorienting to be referred to as darlin', but endearing none the less.
I can tell the condition of the RV is starting to wear Mike down. He keeps talking about his plans to deal with the issues on his own until we arrive in DC and can get it into the shop. At a truck stop gas station in Alabama, he walks into the truck service side and asks if they have any spill pads. The fuel line leaks every time we pump, and my husband, being the EPA-conscientious Chevron employee that he is, is trained to take precautions. The attendant offers him a handful of spill pads and Mike offers to pay for them. The guy replies, "I don't even know how to charge you, these are our shop supply," then after a brief pause, "So, here you go. Roll Tide!" Mike returns and tells me this and I laugh until tears come to my eyes.
Apparently we are now legitimately in the South. I think maybe Texas didn't count. They seem to have their own thing going.
We pull into The Grand Ole RV, which I have been repeating in my faux-southern accent the entire drive. Actually, on one particularly monotonous patch of drive when I decided to take a break from listening to Lonesome Dove on Audible, I spent half an hour reading street signs in my wannabe twangy drawl. It's well past dinner and the kids are restless. We check Uber to see if we can get into downtown Nashville, but no XL is available and to do two cars we'd be out $80 roundtrip before feeding the six of us dinner. We make the decision to take our chances with the little restaurant which is also the check in office, sundries store, library, video rental, and game stop.
A man who looked like he was dressed up as a character from Duck Dynasty holds the door open. We are flooded with the sweet sounds of live country music. I look timidly around the crowded little room, the band takes up a quarter of the floor and people are sitting at all the mismatched dining room tables filling the rest. The Duck Commander motions for us to take the other end of a large table at the front already occupied by a couple with an ice bucket of longneck beers. I shyly sidle in and apologize for taking space at their table. The woman smiles and shakes off the apology.
We order BBQ ribs, fried chicken, and macaroni and cheese for Mike and the kids. My own food arrives on a white paper plate, a BLT stacked with what must be half a pound of bacon, sweet potato casserole, and a red solo cup of icey sweet tea. I can feel the tension of a long day on the road release. Even Mike seems to have forgotten about the RV, smiling and playing rock-paper-scissors with Walter. The woman at the other end of the table croons over our kids and the waitress spoils them with brownie sundaes for dessert. I close my eyes and sway to the music.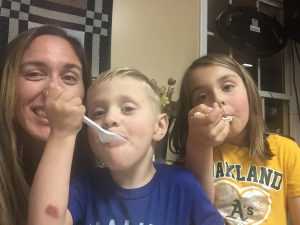 After dinner we walk the gravel road back to the RV and proclaim, "THIS is EXACTLY what we needed!"
This euphoria lasts right until we open the door to the RV and smell noxious fumes. We end up figuring out that the battery which controls the electrical for the living space has overheated. Mike disconnects it. We climb into bed in the dark a bit wary, but warm enough.
We sleep in late—well, at least the kids made it a little past sunrise today—and prep to move to a spot by the store. After we've rolled our home to its next temporary location, I grab my shower stuff and make my way to the women's bathroom. I enter and am greeted by the sight of a sweet teenager sitting on a sink with rollers in her dark hair. "Sorry, the mirrors are just too far away to do my makeup," she explains and reaches to turn of the country music she has blasting. "No worries. Don't turn that off on my account," I say as I walk into a shower stall. Truth is, it was relaxing to have a hot shower with Tim McGraw and Keith Urban in the background.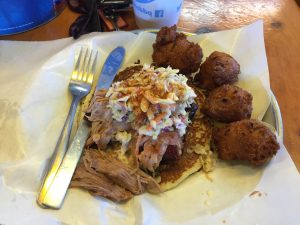 After I'm cleaned up we gather the kids from the camp playground and roll out to meet friends for lunch in Nolensville. We meet at Martin's BBQ Joint after a sketchy attempt to navigate the Mars(den) Rover through the crowded parking lot next to a little league field. Again, we are indebted to southerner who directed Mike's driving so we wouldn't inadvertently crush anyone. Lunch and time with our friends, missionaries back from China who have just accepted a call to a church serving the Chinese community in San Francisco, was as excellent as the food. Which is saying something because the Redneck Taco (corn pancake topped with BBQ pork, sauce, and slaw) was BOMB. I think the hushpuppies were good, but can't really tell because Lucy eats them all off my plate before I've had more than a bite.
Overall, Nashville was nurturing. We needed that time to slow down. We needed time to decompress. For people to call us darlin' and give us sweet tea and a welcome place at the table. We didn't know how much we needed some southern hospitality until we received it. We leave lunch grateful and in awe of the transfixing beauty of a Tennessee spring day.
It'll be another long drive through the night to Lynchburg, but we take the fullness of gratitude for having received soul care with us.
Day 7 Vlog (first day in Nashville):
To see the Day 8 vlog of us leaving Nashville visit: https://youtu.be/pvkmtxqFEwc