My fellow procrastinators,
May I make a quick suggestion? Before you're forced to brave the mall because you think it's too late to order something online that will arrive in time for Mother's Day, how about I make this super easy for you? I have two book suggestions that you can order on Amazon and they will arrive tomorrow. What's faster than that? I mean, I guess driving to a store and wandering through crowds and picking over what's left on the shelf is technically faster than tomorrow. But is that how you want to live your life?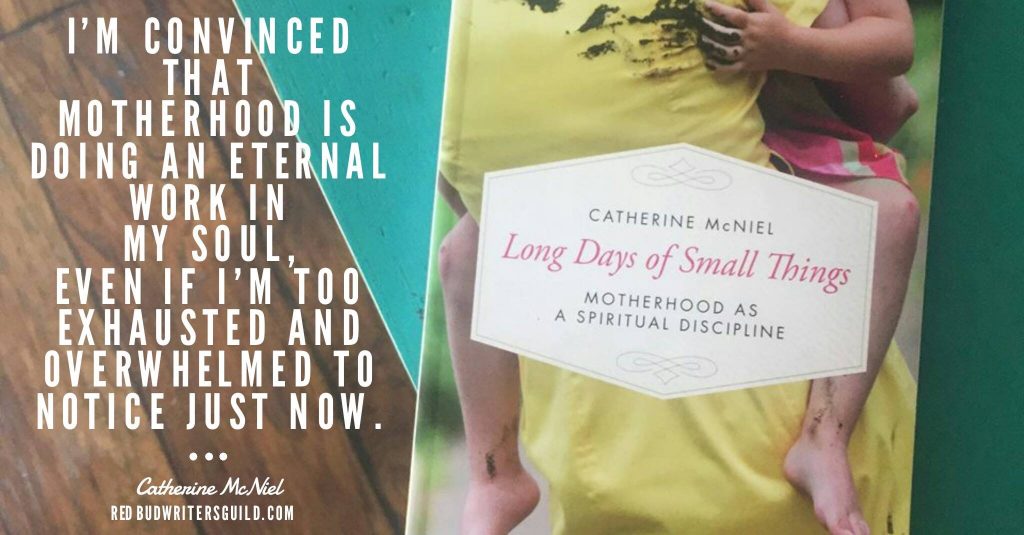 My first suggestion is for any mom on your list, but especially for a new(ish) one. Long Days of Small Things: Motherhood As A Spiritual Discipline by Catherine McNiel is a book of "rich, soul-inspiring practices for moms who have neither quiet nor time." Every mother of littles' heart just skipped a beat. Yes, this is the book you've been searching for. It does exist. A mom who totally gets how hard it is to try to force a "quiet time" into a day which allows for neither, wrote a book for you. And it's not some fluffy you're-so-great-you-don't-really-need-a-quiet-time let's just color and call it a day kind of book. It's opening your eyes to the opportunities for spiritual growth through the stuff you're already doing.
In the words of Reading Rainbow, "You don't have to take my word for it." Here's a little excerpt that I absolutely LOVED and have totally LIVED:
I'm ready to leave the shop, but one thing stands in my way–the door. Not exactly a formidable barrier, but the odds are against me. My preschooler is running in circles, while my toddler pulls at my left hand. My right hand grips the terribly unwieldy baby carrier. Inside the carrier is, of course, my infant daughter. She is hungry and tired and howling. My purse is falling off one shoulder, my diaper bag off the other. Children are asking about snacks and water fountains, and I'm wondering, How are we all going to get through that door?

No one jumps to hold it open for me, though more than enough people are watching to ensure my embarrassment when I attempt to hold it for myself. Myself, that is, and my entourage: these three precious ones who know life only through my own life, who see me as the primary source of all things. Somehow, with bags crashing down against my forearms, I bang open the door with my hip, weave the toddler under one arm, and lift the baby carrier over the preschooler's head. Somehow, we all stumble through before it closes on any small fingers and toes.

Yes, ladies and gentlemen, I have done it. I have walked through a door.

Later that day I read an article about a Christian teacher I deeply admire. The writer described this hero-of-the-faith as so spiritually enlightened, he radiated peace just by walking through the door.

This stops me in my tracks. It testifies mightily against me, against the fruit of my life in this season. I'm not quite the picture of enlightenment. If radiating peace (with or without a door) is the measure of spiritual success, I'm certain I will never arrive.
How many moms reading this can feel the crazy-making tension of trying to get multiple tiny people from Point A to B?! All moms, that's how many. Click away weary friends: https://www.amazon.com/Long-Days-Small-Things-Motherhood/dp/1631466437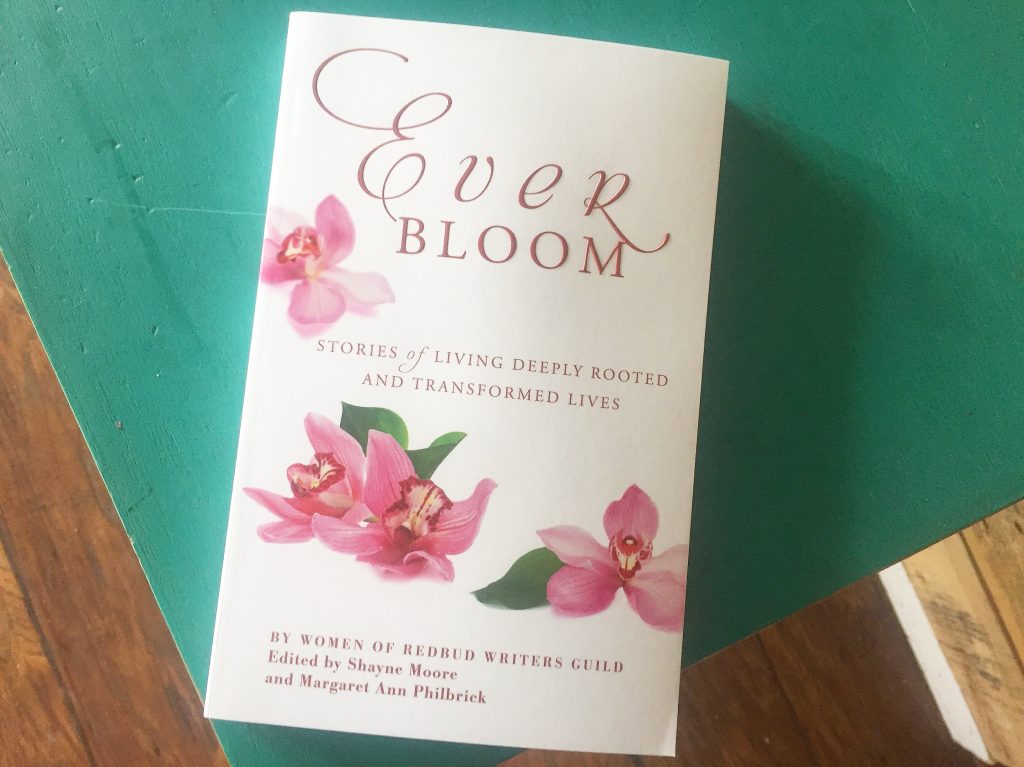 The other book I want to recommend is for all moms (all women, really). This book is particularly special to me, not only because one of my favorite essays I have ever written is published in there, but because it's full of the stories of my Redbud Writers Guild sisters. In Everbloom: Stories of Deeply Rooted and Transformed Lives Redbud Writers "offer essays, stories and poetry: intensely personal accounts of transformation, and the journeys to find their own voices. Best of all, they invite you to join them, with writing prompts that encourage a response of honesty, faith and imagination. Accept the invitation: set out on the journey to find your own voice." Yep, clickity click: https://www.amazon.com/Everbloom-Stories-Deeply-Rooted-Transformed/dp/1612619339
Now here is my most genius Mother's Day idea: Buy both books. Give both books, maybe some flowers or beverage of your choice (or both!) to the lovely mom in your life and offer to watch her kids for a bit so she can enjoy them. 
This is Mother's Day GOLD, people. Trust me. 
Always ready to save you from making an extra trip out of the house (but make sure you order TODAY),
-Aleah